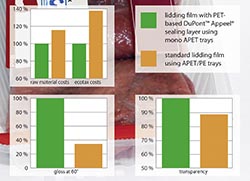 Photo: DuPont
DuPont and Reifenhäuser have developed a cost saving lidding structure with a PET-based Appeel® sealing layer, which directly seals to mono-APET trays. Advantages over traditional lidding films using an LDPE sealing layer include a higher fat barrier, perforation resistance, gloss and transparency. By eliminating the need for an additional polyolefin-based lamination film on the APET tray, the new lidding structure enables savings in raw material costs as well as in ecotax, and a reduction in greenhouse gas emissions.

Geneva/Switzerland, July 2014 – In the context of their extensive collaboration to improve the cost efficiency, performance and sustainability of packaging applications, Reifenhäuser Kiefel Extrusion of Troisdorf/Germany and DuPont have developed a peelable, surface printable, multi-layer high barrier lidding film, which seals directly and effectively to mono-APET trays, even through fat and meat juices. This substantial progress was made possible by combining Reifenhäuser's versatile 11/9-channel EVOLUTION barrier blown film technology and a new PET based DuPont™ Appeel® sealant resin.

Compared to traditional lidding films with an additional LDPE sealing layer, which is co-extruded or laminated to the APET structure, the use of a co-extruded Appeel® sealing layer provides superior packaging properties, including higher fat barrier, perforation resistance, gloss and transparency. A major cost advantage of this new approach arises from the fact that it eliminates the need for an additional polyolefin-based lamination film on the APET tray. As a result, trims can be directly recycled, the bottom web costs can be reduced by up to 40%, and the total weight of the tray can be up to 15% lower without loss in stiffness. This allows for additional savings in raw material costs as well as in ecotax, and a reduction in greenhouse gas emissions.

The new lidding film for mono-APET trays comes with a layer of a printable PA outside, which provides the heat resistance required for contact with the sealing bar. Combined with the relatively low seal initiation temperature provided by the inside Appeel® layer this structure allows for direct printing and sealing of the film without the costly extra production step of laminating to a reverse printed OPET layer. This brings additional cost savings for applications using self-adhesive labels or surface printing. In any event, if required by the customer and thanks to the high versatility of Reifenhäuser's technology, the new film can also be laminated to a reverse printed OPET layer.

Unlike other lacquers and peel systems, the new Appeel® lidding sealant resin provides a fusion seal to APET, providing outstanding seal integrity even through surface contamination caused by fat or meat juices. This is also true for antifog coated films. In addition, the new lidding film structure makes it possible to incorporate easy-open behaviour at the interface between tie and sealant layer (burst peel). Here, the choice of the specific DuPont™ Bynel® tie resin is key to providing a film with easy-open feature or with a strong seal, depending on the application.

Cost-efficient production of the new multilayer lidding structure has been made possible thanks to the versatility and high precision of Reifenhäuser Kiefel's EVOLUTION ULTRA RANGE extruders. Developed for easy processing of complex film structures with all kind of resins, they provide outstanding flexibility in terms of choice and amount of high performance polymers including high-barrier grades, adhesives and sealants, so allowing use of the most suitable materials at minimum costs. Depending on the required film structure, they permit both very high and very low output rates at low melt temperatures. The possibility of combining up to 11 channels enables the production of asymmetric films with minimum curling. Their advanced die head technology with precise individual melt distribution allows for extreme downgauging. The superior flatness of the film provides improved printability and constant performance over its entire area.

Reifenhäuser Kiefel Extrusion GmbH is member of the Reifenhäuser group which consists of six business units and over 1,200 employees and is the largest extrusion network in the industry. The company is a leading German manufacturer of high quality blown film extrusion systems and peripheral equipment for the production of flexible films and has over 40 years of a successful history worldwide in the production of simple mono layer up to sophisticated 9-layer barrier film lines for a wide variety of applications.

DuPont Packaging & Industrial Polymers manufactures an extensive mix of adhesive, barrier, peelable lidding and sealant resins and provides a globally networked development team to work with customers on packaging programs that help protect the product, environment; improve shelf appeal, convenience; and reduce cost in the food, cosmetics, medical products and other consumer goods and industrial packaging industries.

DuPont (NYSE: DD) has been bringing world-class science and engineering to the global marketplace in the form of innovative products, materials, and services since 1802. The company believes that by collaborating with customers, governments, NGOs, and thought leaders we can help find solutions to such global challenges as providing enough healthy food for people everywhere, decreasing dependence on fossil fuels, and protecting life and the environment. For additional information about DuPont and its commitment to inclusive innovation, please visit (www.dupont.com).

EVOLUTION is filed as registered trademark of Reifenhäuser.
The DuPont Oval, DuPont™ and all products denoted with ® are registered trademarks or trademarks of E. I. du Pont de Nemours and Company or its affiliates.

PIP-Int-2014-01

Contact:
DuPont de Nemours International Sarl.
Nilgun Turan
Marketing Communications Manager, Europe
Packaging & Industrial Polymers
Phone: +41-22-717-5497, Mobile: +90-530-5669883
Nilgun.Turan@dupont.com