FLORIDA MOTORCYCLE CRASH FATALITIES

Florida leads the nation in motorcycle crash fatalities with 606 deaths in 2015.

Motorcycle crash fatalities rose 30% between 2014 and 2015.

The majority of motorcyclists (83%) claim to always wear a helmet, yet according to an observable helmet report only 47% of Florida motorcyclists were seen wearing a helmet when riding.

15 percent of motorcyclists do not have motorcycle insurance. The average cost for a motorcyclist involved in a traffic crash, who was then admitted to the hospital, was $83,676.

The majority (72%) of motorcyclists believe they should be required by law to wear a helmet when riding. AAA strongly supports a universal helmet law for motorcyclists.

See full report below
FLORIDA LEADS THE NATION IN MOTORCYCLE CRASH FATALITIES
Motorcycle fatalities in Florida rose 30% between 2014 and 2015
Broadcast Quality Sound Bites (Click here to watch and download)
TAMPA, Fla. (March 9, 2017) — Drivers should expect an increase in motorcycle traffic on all Florida roadways, as thousands of motorcyclists roar into Daytona for the 76th annual Daytona Bike Week, March 10-19.
Motorcycle Fatality Stats
Florida has the most motorcycle crash fatalities in the nation, according to the National Highway Traffic Safety Administration1. According to the most recent crash data, Florida saw a 30% increase in these deaths, making 2015 the highest on record. Motorcyclists accounted for one-fifth (20%) of motor vehicle fatalities in the state, yet motorcycles only account for 3% of registered vehicles. In 2015, 606 people died and 9,045 were injured in motorcycle crashes on Florida roads.
"Time and time again the effectiveness of motorcycle helmets has been proven through scientific study," said Karen Morgan, Public Policy Manager, AAA - The Auto Club Group. "AAA strongly supports a universal helmet law in Florida."
Top Counties for Motorcycle Crash Deaths:
| | | |
| --- | --- | --- |
| Rank | County | Deaths |
| 1 | Miami-Dade | 67 |
| 2 | Hillsborough | 48 |
| 3 | Broward | 42 |
| 4 | Palm Beach | 34 |
| 5 | Pinellas | 27 |
| 6 (tied) | Lee | 26 |
| 6 (tied) | Orange | 26 |
| 8 | Duval | 23 |
| 9 (tied) | Brevard | 22 |
| 9 (tied) | Pasco | 22 |
| 11 (tied) | Polk | 21 |
| 11 (tied) | Volusia | 21 |
According to a AAA Consumer Pulse™ survey the majority (83%) of motorcyclists claim to always wear a helmet when they ride. But according to a motorcycle helmet usage report, only 47% of riders in Florida were observed wearing a helmet while riding.
Economic Cost
Motorcycle crashes are costly, yet according to a AAA Consumer Pulse™ survey, one in seven motorcyclists (15%) do not have motorcycle insurance. According to the Florida Department of Health, hospital charges for motorcyclists - treated in a hospital due to a traffic crash - totaled $675,674,964. The average cost for a motorcyclist involved in a traffic crash who was then admitted to the hospital was $83,676. Helmet use has been shown to significantly reduce the cost associated with motorcycle traffic crashes.
"Wearing a helmet could mean the difference between life and death," said Josh Carrasco, spokesman, AAA – The Auto Club Group. "Our goal is to make sure all motorists arrive safely at their destination, including motorcyclists."
AAA encourages drivers and motorcyclists not to drive impaired and to follow these safety tips:
Safety Tips for Motorists:
Respect motorcycle riders. Motorcycles are vehicles too and have the same privileges as an automobile. Be sure to give them ample room.
Look and Listen. Even if a motorcycle is loud, you may not hear it. Actively look for motorcycles in traffic.
Leave room. Leave plenty of room between your vehicle and motorcyclists. Uneven terrain, wet roads, and heavy traffic often require a motorcycle rider to react and maneuver differently than automobiles.
Be aware. Take extra caution when making a left-hand turn, because most automobile-versus-motorcycle crashes occur during left-hand turns.
Don't drive distracted. A driver who takes their eyes off the road for two seconds doubles their risk of getting into a crash.
Safety Tips for Motorcyclists:
Wear safety gear. Helmets that meet DOT compliance standards, eye wear, closed-toe footwear and protective clothing reduce your risk of injury or death in a crash. Remember, the only thing between you and the ground is your protective gear.
Be visible. Keep headlights, marker and taillights on at dusk and dark, or rainy weather. Wear bright clothing or put reflective strips on your bike to be more visible to other motorists. Avoid being in the blind spots of cars and trucks by following three to four seconds behind the vehicle in front of you.
Use sound judgment. Avoid weaving between lanes while riding. Be sure to use your signals and stick to the speed limit.
Get proper training. Completing a motorcycle safety course can not only make you a better rider, but save you money on your motorcycle insurance.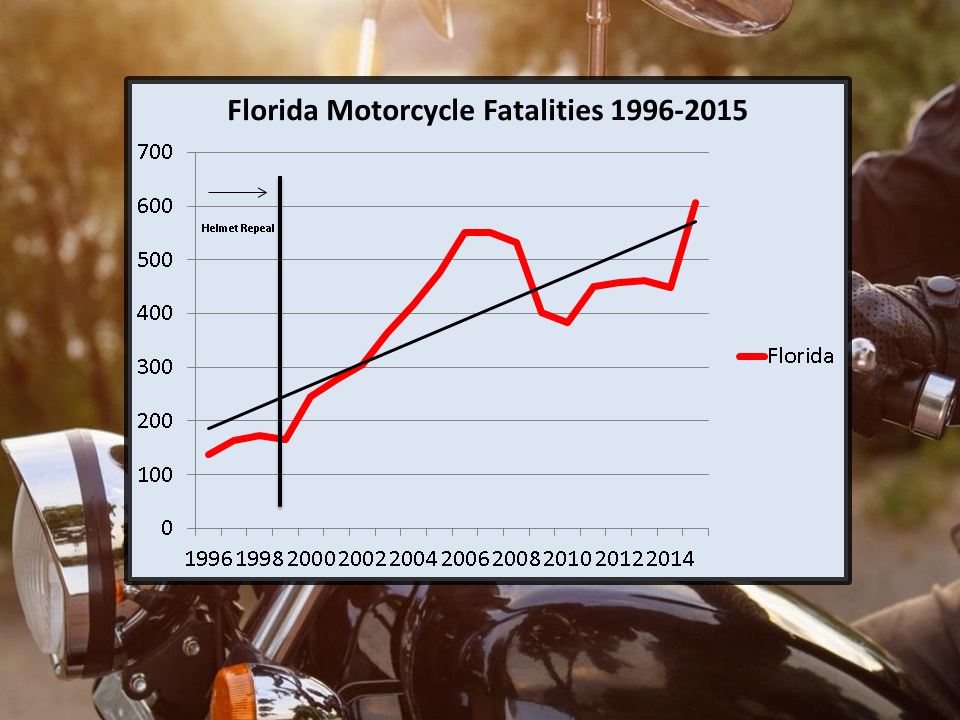 About AAA Consumer Pulse™ Survey
The AAA Consumer Pulse™ Survey was conducted online among motorcycle owners living in Florida from February 17, 2017 – March 7, 2017. A total 200 residents completed the survey. The survey has a margin of error of ± 6.9 percentage points.
About The Auto Club Group
The Auto Club Group (ACG) is the second largest AAA club in North America. ACG and its affiliates provide membership, travel, insurance and financial services offerings to over 9 million members across eleven states and two U.S. territories including Florida, Georgia, Iowa, Michigan, Nebraska, North Dakota, Tennessee, Wisconsin, Puerto Rico and the U.S. Virgin Islands; most of Illinois and Minnesota; and a portion of Indiana. ACG belongs to the national AAA federation with more than 57 million members in the United States and Canada and whose mission includes protecting and advancing freedom of mobility and improving traffic safety.
1 Preliminary data gathered from NHTSA's Fatality Analysis Reporting System (FARS)